Boost Your Profitability On Amazon and Walmart With Our Advanced Seller Tool Chrome Extension
A tool that provides all the information you need to make the best business decision!
Unlock The Power Of Sales Data!
The journey to becoming a successful seller on Walmart and Amazon begins with making the right choices. Our innovative extension offers the comprehensive features you need to make informed, data-driven decisions about what products to sell. 
By investing in our tool, you're investing in the growth and profitability of your Wamart and Amazon business. With our extension, the power to succeed is in your hands.
The powerful Ecom Circles Seller Extension suite is designed to help you unlock the full potential of your sales on these platforms. With the Ecom Circles Chrome extension, you can easily get UPC codes, ASIN information, Keepa data, check items for IP complaints and restrictions, see sales estimates, and so much more!
Packed With Features To Help You Win!
The Ecom Circles Chrome Extension is loaded with extensive features to help you stay ahead of your competition.

Compatible with Amazon and Walmart
Unlike most seller extensions that are limited to Amazon, ours opens up a world of opportunities by being fully compatible with both Amazon and Walmart. This versatility enables you to conduct comprehensive Walmart product research alongside Amazon product analysis, all in one place.
Our software is more than just a tool; it's a conduit to better business decisions for your Amazon and Walmart storefronts. It lets you gather crucial information about products, analyze pricing, monitor Keepa graphs, and much more on both platforms.
For Walmart business operators, you can dive deep into the Walmart marketplace, gaining insights that drive annual revenue growth. And for Amazon sellers, our tool provides the comprehensive research capabilities necessary to stay ahead in a competitive market.
But perhaps one of the most powerful aspects of our software is the ability to compare prices between these two online retail giants. This provides an invaluable advantage, allowing you to pinpoint the most profitable platform for each product and optimize your pricing strategy accordingly.
Stay Informed With Useful Product Information
Beyond showcasing Walmart UPC codes, this software enhances your product search by revealing essential product details like the internal product ID, item ID, and product attributes such as color, from both Walmart and Amazon product pages. 
It offers a holistic view of every Walmart product, enabling comprehensive keyword research to find items with less competition.
By simply hovering over item images on Amazon or Walmart category pages, you can access further product details including dimensions, manufacturer, customer review data, and even estimated monthly sales. 
This valuable information can shape your Walmart business strategy, guiding you toward products that can drive your success.

Access UPC Codes With Ease
The Ecom Circles Extension tool automatically pulls UPC data on Amazon and Walmart  so you do not have to hunt for it within page source code. 
The tool completely streamlines your listing and product research process by displaying this code on product pages, category pages, and search pages, making it easier to access this information with minimal stress. 
The tool also goes a step further to provide you with the Item ID, which is usually the SKU number of Walmart. You can easily copy and paste this UPC number in a matter of seconds.
If products do not have UPC codes on Walmart, you have nothing to worry about with the Ecom Circles chrome extension. The software will pull the code from other sources, such as Amazon, with 100% accuracy.
View Valuable Stats On Product & Category Pages
Ecom Circles Extension offers critical insights right on product category pages, including the number of FBA, FBM, or WFS (for Walmart) sellers, item rank, and item price after Amazon or Walmart fees. These statistics help you identify your competitors, gauge competition intensity in the online marketplace, and decide whether to enter the fray based on sales potential.
Moreover, our extension informs you whether an item is sold and shipped by Amazon or Walmart. This key detail helps you understand if you're up against the marketplace itself – a formidable competitor that could make winning sales challenging.
By spotting items with a low number of sellers, you can find products with less competition and a higher potential for profitability.
All this data equips you to make informed decisions on crucial aspects of your business such as pricing, inventory, and shipping. With our tool, crafting a successful business strategy becomes a smoother, more data-driven process.

Unveil Your Profit Potential with In-Built Profit Calculator
Master your e-commerce profitability with the Ecom Circles Extension. 
Our built-in calculator does the heavy lifting for you, analyzing vital factors like cost, selling price, storage fees, and other marketplace fees (including FBA and WFS fees).
By leveraging this tool, you'll have an accurate, instant view of your potential profit, margins, and ROI for each product. 
This comprehensive financial picture empowers you to make data-driven decisions about which products to sell and at what price, maximizing your profitability on both Amazon and Walmart.
Forget about complex spreadsheets and manual calculations. With Ecom Circles Extension, the numbers you need are always at your fingertips, enabling you to run a more efficient, profitable e-commerce business. Let us handle the math, so you can focus on growing your business.
Get Keepa Graphs and Price History Data
As a powerful product research tool, the Ecom Circles seller extension enables you to track product prices and monitor trends across both Amazon and Walmart. Amazon sellers gain access to Keepa charts offering a deep dive into price history, revealing price changes over time. This data becomes a potent weapon, providing you the competitive advantage you need in the bustling Amazon marketplace.
For Walmart sellers, our extension provides a similar advantage, offering access to Walmart product price history graphs. You can customize these graphs by hour, day, month, year, all-time data, or even specific date ranges. This flexibility allows you to focus on particular data points of interest, enabling nuanced decision-making for your product listing in the expansive Walmart marketplace.
Ecom Circles seller extension isn't just a tool, but a partner for Amazon and Walmart sellers to make data-driven decisions, transforming their e-commerce journey into a profitable venture.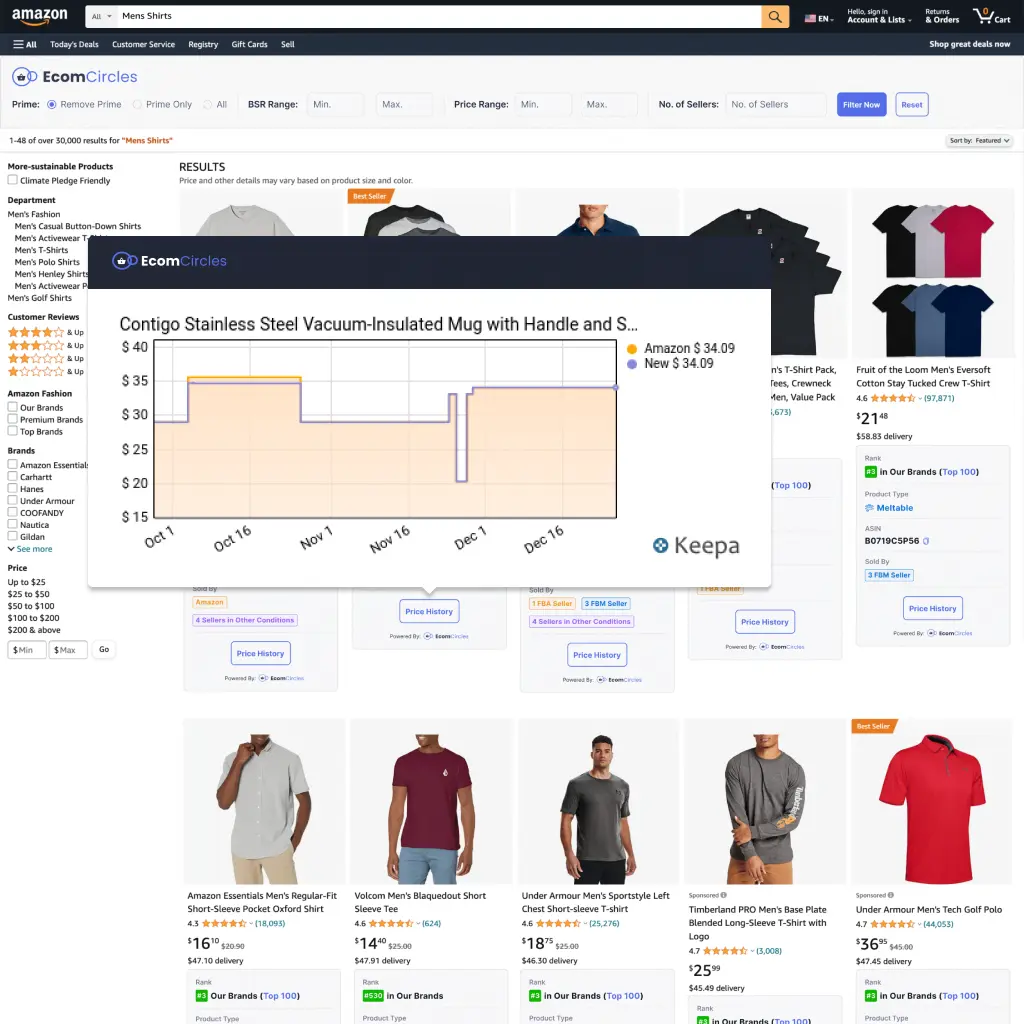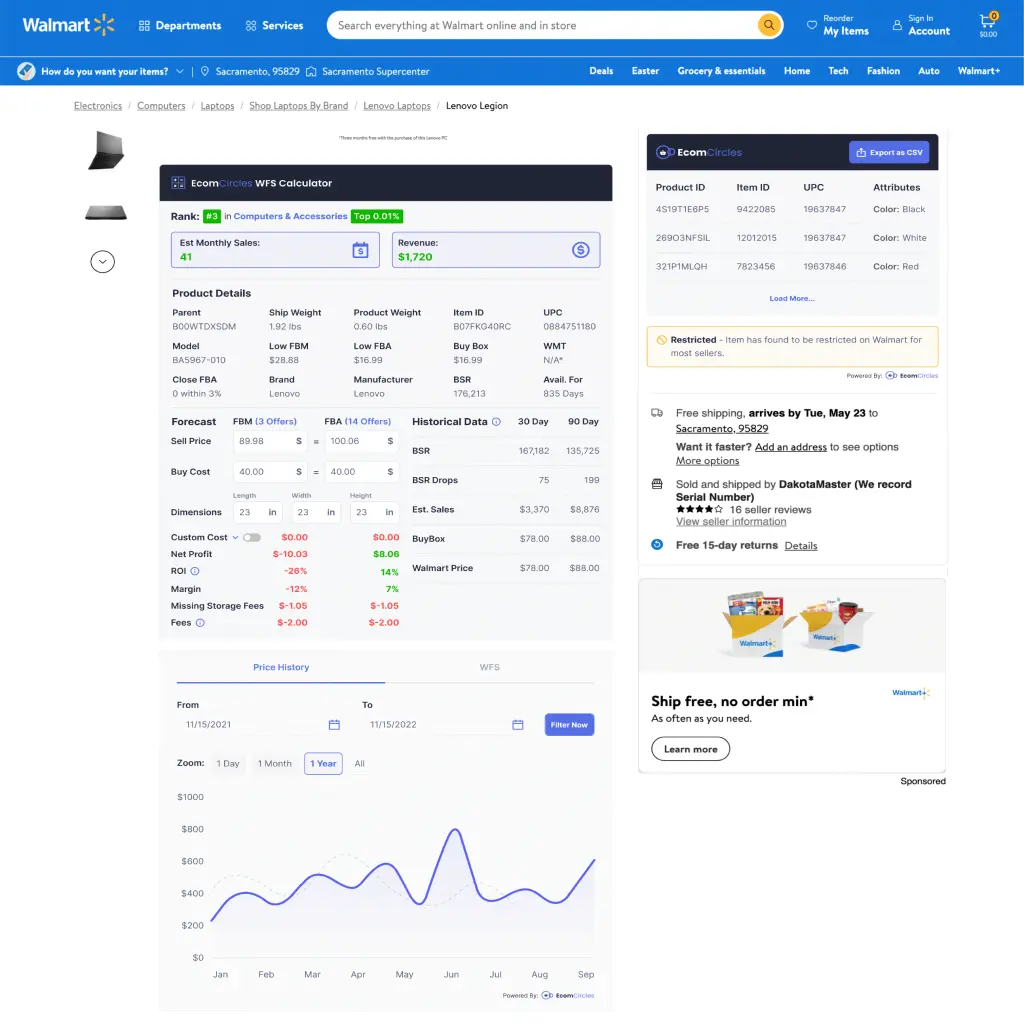 Stay Protected With Item Restriction Checker
Our Google Chrome extension protects your Walmart Seller Center by identifying problematic and restricted products before you list them.
We show 3 levels of warnings inside of our application which are:
No Issues: As far as we know, there have not been any reports against sellers from this brand
Warning: This brand has been reported to have filed complaints against sellers on other platforms, but not necessarily on Walmart. Not all complaints could be verified, so we consider these a "warning" only.
Do Not List: These are brands for which we have verified that either the brand owner has issues a formal complaint through a cease & desist letter or taken action against a seller through Walmart. We highly recommended not listing these brands unless you have a direct relationship with the brand owner.
The Best Chrome Extension For Researching Profitable Products!
Free Extension Plan
Show UPC on Product Pages (5/day)

Show UPC, Item ID/ASIN, and Attribute Data for Variations (5/day)

View product rank on Amazon and Walmart search and category pages

View number of sellers on Amazon and Walmart search and category pages

Hover over product image to view useful product details

See product 'Sold By' info in Amazon and Walmart pages
Ecom Circles Basic
Everything in the Free Plan

Show UPC on Product Pages (Unlimited!)

Show UPC, Item ID/ASIN, and Attribute Data for Variations (Unlimited!)

Filter search and category pages by seller type and/or ranking

IP Claim Checker (Walmart Only)

Hazmat Checker (requires Amazon API connection to seller account)

Restriction Checker (requires Amazon API connection to seller account)

Walmart Stock History Graph

Access to the Ecom Circles Dashboard to track sales and profits
Join our group on Facebook
A perfect place to share successes and struggles, members help each other become better sellers than they were yesterday. 
Become part of a community focused on sharing tips for successful drop shipping. Learn about how to choose dropshipping suppliers or to sell different products. Also, learn more about new tools designed to help dropshippers, beginners, and experts.
Contribute to the groups and learn from others eager to share on social media. Get intel on the best-selling products and maximize the profitability of your eCommerce store.